Using Eyelash Extensions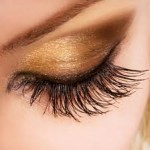 Woman are opting for extensions to get that perfect full lash effect, it can be the perfect way to finish of your look. Eyelash extensions can be applied at home or for the less adventurous many salons now offer false eyelashes. They are available in different styles, lengths and colours. So if you are looking for semi permanent eyelash extensions or ones just to wear for the night then there is plenty of choice.
Types of eyelash extensions
Strip eyelash extensions
These are on a strip which has been pre-made, they do not look as natural as the other types but still can look great. They are quick to apply and are the easiest if you are applying them your self. There is a large choice in this sort of eyelash extension so you can decide whether you want to go for the long flirty look or something slightly more demure.
Individual Strands
The most natural type of eyelash extensions are the individual flares, each one is added individually to the existing eyelashes. Individual eyelash extensions are commonly used in mascara adverts. They can add volume and length, using individual eyelash extensions can create a specific look desired by the wearer. Some women opt for these to be professionally placed, when they are done correctly they can last till the natural eyelash grows out.
Separate Flares
Separate flares are slightly harder to apply if you are applying them your self, but they can look more natural than the strip eyelash extensions. You can use these in different ways you may just want a bit of a flair or maybe a more full lash look. These eyelash extensions are halfway between strip lashes and individual strands
How to apply eyelash extensions
The following is a step-by-step process for the application of eyelash extensions.
Once you have chosen your type and style of the eyelash extensions you are going to use, you will need to trim them. The best way to do this is to place them over your natural lashes and then using cuticle scissors cut the ends to the right length. The longest eye lashes should be applied to the outer corner of your eye.
A useful tip when applying eyelash extensions are to draw a line using an eyeliner pencil, create a line along your eye line where the false eyelashes will be applied. This can be then used as a guide when applying.
Using a pair of tweezers to pick up your eyelash extension, carefully apply a small amount of eyelash adhesive to the base. It is important to allow the glue to set for a couple of seconds before you apply it to your eyes. Ideally the eyelash extensions need to be as close to the natural lash line as possible. They need to be slightly away from the inner edge of your eye, eyelashes do not grow there naturally. Use your own natural eyelash line as a guide. When using strip or flares make sure that the edges are secure, use a stick or tweezers to keep them pressed down whilst the adhesive drys. Keep the eyes closed for about 60 seconds to ensure the glue has dried completly
Some people think it is better to apply mascara before applying the eyelash extensions. Some people prefer to do this afterward as it can help to blend the false eyelashes with the natural ones. Another useful tip is to apply eyeliner after application as this will then seal and help to hide the seal. When using individual eyelash extensions you can apply them until the desired look, length and thickness are achieved.
Many salons offer false eyelash application, those cans last until your natural eyelashes grow out.
Removing eyelash extentions
It is recommend that an eye make up remover is used and that they are taken off with care. If this is not done the eyelash extensions will damage your natural eyelashes.