Folic Acid
What is Folic Acid?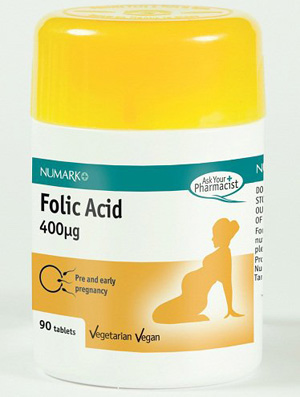 There are different vitamins in which the body requires to function, folic acid is part of the vitamin B group. It assists the body in making new cells, folic acid is sometimes referred to as foliate they both, folic acid is a man made form of folate.
How much folic acid should woman take?
Folic acid and pregnancy
Even though, folate can be found naturally in the foods which we consume, most woman do not gain the levels in which required. All people require a certain level of folate but required more in woman than men. It is extremely commonly used for a woman who is planning a pregnancy and during the nine months in which she is pregnant. The level of folic acid is most important in the first few months of pregnancy. Research has shown it can prevent and help avoid certain common birth defects. Some of these include,
Spina bifida- this is a condition which occurs during the development of an unborn child, the spinal cord does not develop in the way it should be. The spinal columns function is to protect the delicate spinal cord. When someone has spina bifida the column does not close to protect the spinal cord. This can result in problems with the nerves that control leg movement and can affect other functions. This is a terminal condition that can require surgery, but it will never fully be corrected. Anecephaly- this is a condition that affects the brain, part or in cases all of the brain does not develop, sadly most babies will die shortly after they are born.
Back to top
How much folic acid should woman take?
It is recommended woman of a child bearing age in a sexual relationship should be taking between 400 to 800 mg every day. Folic acid is most important in the first trimester of a pregnancy when the spinal cord and the brain are forming. As always it is important to check with your doctor, how much folic acid especially if pregnant or planning a pregnancy. A doctor can assess how much folic acid a woman will need to take. This is decided dependent on circumstances, pre natal vitamins which contain high levels of folate may be recommended.
Back to top

What are Folic Acid Benefits?
Folic acid is not just recommended for woman during pregnancy it has other advantages. Folic acid is responsible for keeping the blood healthy lack of folate may result in conditions such as anemia. Research has also indicated that folic acid may also play a vital role in keeping a heal; thy heart and can also prevent a change in the cells that may lead to cancer. Research has shown folic acid to be beneficial in lowering homocysteine levels. Homocysteine is an amino acid found in the blood, test have shown that high levels are linked to corony heart disease, vascular disease and stokes. In addition to this higher levels of Homocysteine are linked to depression. Other Folic acid benefits include help with energy levels and help fight against Alzheimer's disease.
Back to top
Foods & Folic Acid
Folic Acid in its natural form folate can be found in certain foods. Folate is not easily absorbed in to the body unlike the man made form (synthetic) Folic acid. Folic acid added to certain foods often refereed to as enriched. Folic usually has been added to instant oatmeal, bread, rice, pasta, enriched flour. It is very common for breakfast cereals to be enriched with folic acid and a good way to incorporate it into your diet. Natural Folate Foods:
Spinich
black beans
mustard
kidney beans
avocado
asparagus
oranges
strawberries
Broccoli
turnips
Whilst there are many benefits to taking folic acid it is always advisable to speak to your doctor before beginning any supplements, especially if pregnant or planning a pregnancy.
Back to top