Semi permanent make up
What is semi permanent make up?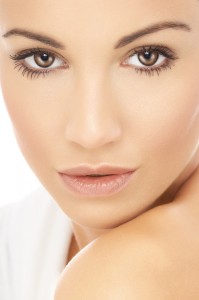 Semi permanent make up may be also referred to as micro-pigmentation and cosmetic tattooing. Semi permanent make up is similar to conventional tattooing. Unlike conventional tattooing a different sort of ink is used, this is not tattooed as deeply into the skin as conventional tattoos. Semi permanent make up is achieved with the use of thin needles, hypo-allergenic pigments are placed into the dermal layer of skin. After the procedure, the effects of the semi permanent make up can last for months or even years. Semi permanent make up will fade with time how quickly depends on a number of factors, including age and your skin type. The procedure of micro pigmentation is invasive, skin is being broken so it is classed as a permanent make up. Over time the pigment (which is very different from regular tattooing) is broken down by the body and fades away giving a semi permanent colour that needs to be topped up after 2-5 years.
Some people do ask to have permanent make up so they do not need to keep coming back to have this topped up. When people age their face shape changes and what once were high shapely eyebrows may become low and unshapely as the facial features drop. So by using semi permanent make up pigments instead of having to keep to the original lines new ones can be created giving lift and a more youthful look to the face. If you look at anyone who has an old tattoo on their body, you will see that the colour can change from its original state and what's left, you could end up with something that looks dreadful.
The most common semi permanent make up treatments are shaping of the lips, eyebrows and definition of the eyes. This may be a good solution for a woman who leads active life's and want to save the hassle of applying make-up everyday.
Semi permanent lip liner
This procedure should only be carried out by a trained health professional, they will discuss with you which is the right colour and shape for you. They will take into account your skin tone and how to best compliment and enhance your natural features. An anaesthetic is usually used to try and minimise the pain or discomfort experienced during the procedure. Straight after the first treatment the colour may appear very intense and sharp. Once the healing process starts this will appear softer and more subtle. It is recommended that you wait at least for weeks before going back for a second appointment. Upon your return the colour and shape will be reviewed, the health professional should be able to get an idea of how well your skin has taken to the procedure. After any changes made, the colour will again be quite bold for the next few days, once healing has finished it will soften into a beautiful flattering lip line.
Semi permanent make up – eyebrows
Eyebrow tattooing is a great way to frame your face, a number of different effects can be created with micro-pigmentation. You can create the allusion of hair strokes to fill sparse eyelashes out, or a solid line to look like pencil, if you have really strong eyebrows it can also give you a softer look. Once again the treatment is usually carried out over two sessions, less pigment is added so you can see the desired effect. Same as with the lip liner the colour will be bold to begin with, it will begin to soften once the healing process has started. When you return for your second appointment your health professional should then decide with you whether more needs to be added or the shape needs thickening.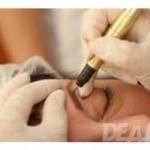 Semi permanent make up- lipstick
Once your lip liner has been created you then may decide to fill the full lip with a colour. Thin or pale lips can be made to appear fuller with highlighting techniques, uneven lips can be recreated and fuller lips softened. Around 4-5 weeks is needed in between treatments, once again it is recommended to have this procedure carried out over two sessions
Semi permanent make up After care
After the procedure you may experience dryness, itching, flakiness or redness. This is completely normal, apply the provided moisturising balm to the area at least three times a day using a cotton bud. Make sure hands are clean before and after application and use a clean cotton bud each time to avoid infection. After the procedure is complete you are advised to do the following:
Avoid wearing contact lenses for a few days.
Avoid swimming for several weeks.
Do not pick peeling or any flaking skin.
Avoid wearing conventional make-upon the treated area(s) for 3 – 5 days.
Apply Vaseline (petroleum jelly)to form a barrier for 3 – 5 days post procedure
Complications of semi permanent make up
Even though it is very rare, allergic reactions to the perminant cosmetics can happen. A good health professional will carry out a sensitivity test at least 48 hours before your procedure. This is very important, you should then be able to see how your skin responds. Scarring is another possibiltiy, once again this is very rare and usually the cause is due to an error by the person carrying out the the semi permanent make up procedure.